Our community has been clear in their desire for a great school uniform.
Preston High School's uniform supplier is Noone Imagewear, a local supplier of exceptional uniforms. In addition to a store in Ivanhoe, an on-site shop is available for fittings on Wednesday afternoons. Families can also shop online at https://www.noone.com.au/school/preston-high-school-preston for home delivery or click-and-collect.
Preston High School is registered with Sustainable School Shop, an organization that facilitates the purchasing and selling of second-hand books and uniforms. To purchase or sell second-hand Preston High School uniforms, please access  https://www.sustainableschoolshop.com.au/stocktake/preston-high-school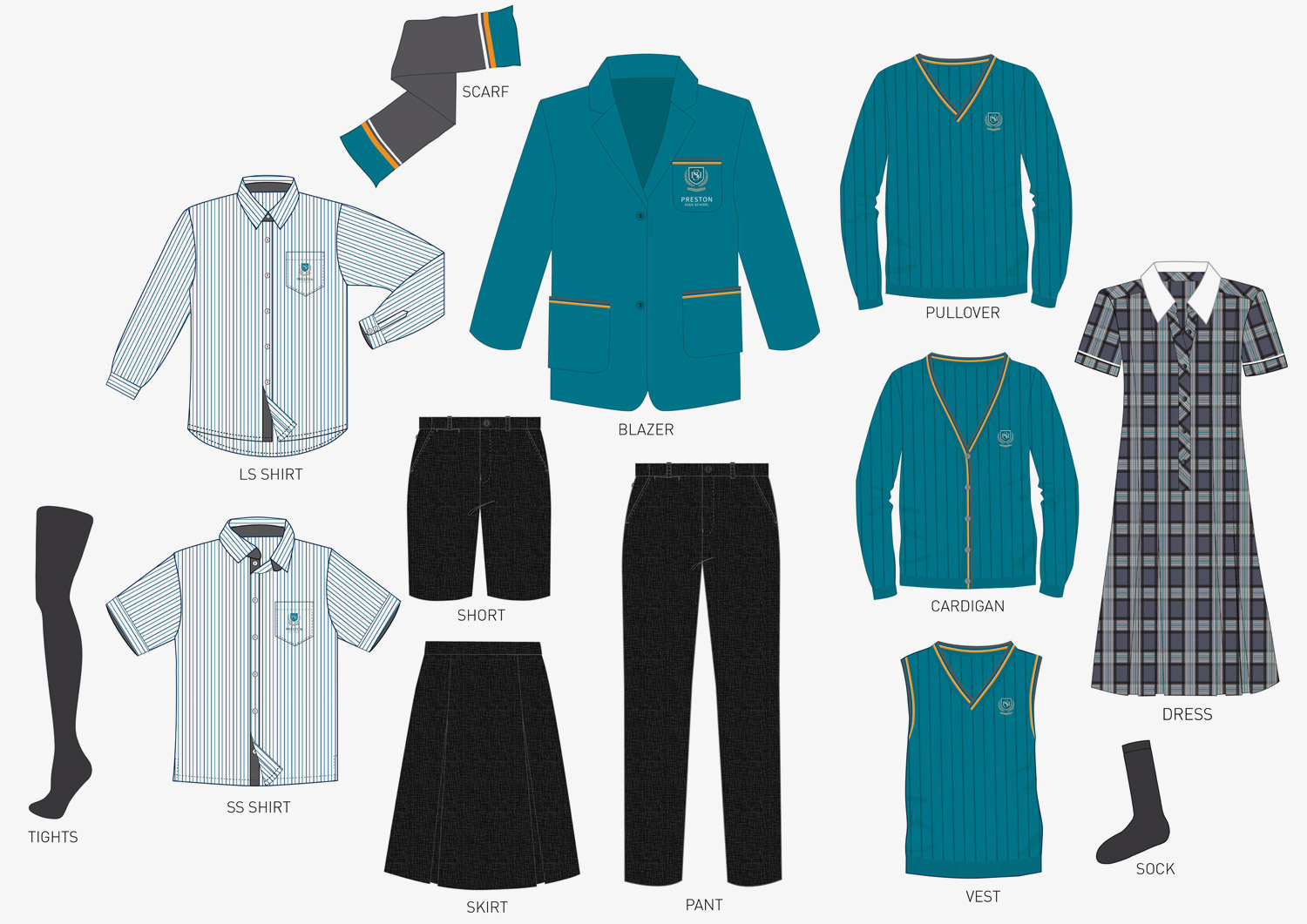 Uniform Dress Code
Purpose
To ensure clarity of expectations. This Code is about:
Promoting a sense of identity, pride and cohesion in the school.
Allowing all students to feel equal.
Preventing bullying and competition on the basis of clothing.
Ensuring students' appearance reflects the expectations of their school community.
Enhancing the profile and identity of the school and its students in the wider community.
Strengthening community spirit.
Enhancing individual student and group safety.
Ensuring all students are dressed safely and appropriately for school activities.
Preparing students for workplace expectations.
Function
The dress code sets out how students should wear the school uniform. The dress code takes precedence over an individual's preferences.
Dress Code
The Uniform means items provided by the Preston High School uniform supplier for the purpose of the Preston High School uniform
Students may wear any of the Preston High School Uniform items made available to them. There are no gender-based restrictions.
While students will dress appropriately for the weather, items may be worn trans-seasonally. That is, a student could wear shorts all year.
Non-uniform garments are not permitted to be worn except:
Undergarments and thermals that are not visible underneath the uniform.
All garments must be worn as intended by the designer/cut of the garment. That is, items should not be rolled up, hemmed up, sewn or cut to appear, sit or function in any other way than intended.
Generic black, charcoal stockings and generic black or white socks may be purchased instead of the same items supplied by the uniform supplier.
Black leather school shoes are the only permitted shoe (except for PE classes). These can be purchased from any supplier. Shoes must be:
Black
Leather
A school shoe (not a black leather runner, skate shoe, slipper, dance shoe, street shoe, etc. Parents are responsible for ensuring shoes purchased fit this code).
Black Leather T-bar sandals are permitted (fully enclosed toe, heel and side).
Sports uniform should be worn on the day of sport classes and special events such as interschool sports. Students can add warmer layers (ie Jumper) as required from the standard uniform but these should remain in the locker during sport activities.
Jewellery must not include drop earrings. Necklaces and bracelets that may tangle in machinery or equipment are dangerous and should not be worn.
Religious, cultural & sensory requirements
Where a student requires modification to the standard uniform for recognised religious purposes these will be accommodated when agreed by the school Principal. Where possible any relevant fabrics should match school colours and/or be purchased from the school's uniform supplier.